Montie Eugene Leffel
May 3, 1933 - July 20, 2020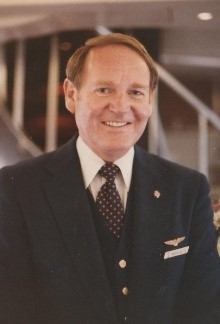 Obituary
A Wonderful Life Well Lived
Montie E. Leffel
May 3, 1933 – July 20, 2020
Will be buried at Maple Hill Cemetery Bluefield, Virginia next to his mother and father.
Those we love don't go away,
They walk beside us every day,
Unseen, unheard, but always near,
So loved, so missed, so very dear.
Montie Eugene Leffel was born in Bluefield, VA on May 3, 1933, he was raised in Bluefield, Virginia the only child of Roy and Ray Leffel. When Montie graduated from high school he was drafted into the US Army and served in Korea from October 1953 to February 24th, 1955.  Montie was awarded the National Defense Service Medal, United Nations Medal, Good Conduct Medal, Korean Service Medal, and the Commendation Ribbon with Medal Pendant.
In 1955 Montie was accepted for his dream job as a purser for Northwest Airlines. He was based in Minneapolis for one year and then transferred to Seattle where he retired January 25, 2001 after 46 years of flying. His last flight was to and from Honolulu, Hawaii his favorite place to swim, walk on the beach, and drink Manhattans.  In September 1996, he received the Northwest Airlines Presidential Award, meaning he was the number one employee out of over sixty thousand employees.
In January 1971, Boeing did a demonstration flight of the "Jumbo Jet" (Boeing-747) in an around the world tour. Montie was requested to be the lead flight attendant on the trip, they went to nine countries including a diversion to East Pakistan to deliver emergency supplies after a massive cyclone almost destroyed the country.
Montie had a close and loving relationship with his mother Ray throughout their lives, and they traveled the world together. Montie exhibited an infectious joy, he took every situation he was in and made it fun and special, and this made it fun and special to be around him. He was quick to laugh, smiled often, and always had something to say. Montie had a quick, smart and sassy wit, that was matched and balanced by one of his greatest gifts, which is that he saw the best in everyone he met. His Northwest Airlines family was blessed to have known him, to have flown with him, and to have had him in our lives. His presence will be missed daily by all who loved him. Aloha Dear Friend.
Montie is survived by his cousins, Larry and Linda Bray, Harry and Linda Gardner, Seymour and Marcia Kagan, and Gerry Stowers.
In recognition of Montie's military service during the Korean War and as a purser flying Military Aircraft Commend missions with the Northwest Airlines Red Tails during Vietnam, his estate would like to secure a tribute plaque in Montie's name in The Museum of Flight's Vietnam Veterans Memorial Park.
Tributes can be made in Montie's memory to The Museum of Flight in Seattle, 9404 E Marginal Way S Seattle, WA 98108 or donate online at www.museumofflight.org/donate.
"I can't think of anything more that could have been done at a time when I needed help and care."
Jean P. Seattle
"We received outstanding service, from front desk to funeral director to family service and beyond."
Deborah M. SeaTac
"The staff went out of their way to show us kindness and helped with several additional needs."
Norma N. Auburn
"The staff was prompt, courteous, helpful, and most of all, caring."
Leslie W. Tacoma
"They really care for people and go out of their way to make things easier."
Kathleen S. Federal Way
"The funeral home is a nice, warm and inviting place. Thank you for your kindness in our loss."
Deborah N. Burien
"We are so pleased with Bonney Watson. They were very professional in every way."
Anita H. Normandy Park