Pastora Contreras
May 17, 1941 - Nov 24, 2019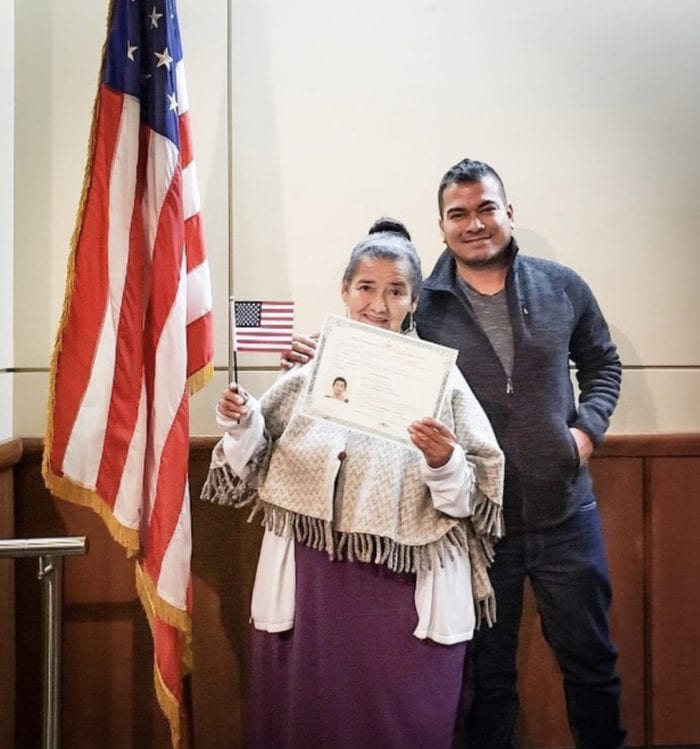 Obituary
Pastora Contreras (78)
Pastora was born on May 17, 1941 in San Nicolas, Copan Honduras. She was the youngest of 8 children born to Jose Emiliano Madrid and Angela Contreras.
Pastora died peacefully on November 24, 2019 at 2:20 am surrounded by her loving children.
Pastora followed her children to the US in November 1997 and became a US Citizen on October 2nd 2018. She was proud to cast her first vote in the United States in the November 2018 state election.
She was diagnosed with pancreatic cancer in 2009 which she fought courageously for 10 years. Pastora had been placed in hospice twice and given days to live, but decided it was not her time and with her strong faith was able to walk out on her own two feet. Giving her several more years with her family and church community. 
Pastora was a woman of strong Christian faith who loved all living things, especially flowers and birds. 
One of her passions was to raise chickens. Back in Honduras, she had more than 100 naming each of them. She sold the eggs to make a living for her family. 
She was always looking for something to clean or plants to care for. She loved to make her own tortillas and cook for her large family.
Pastora is survived by two sisters, her six children; Armando Contreras, Patricia Rivera, Martha Ines Hilliard Contreras, Silverio Ellis Contreras, Luz Idalia Barahona Contreras and Polo Barahona Contreras, twenty grandchildren and four great grandchildren.
________________________

Pastora Contreras (78)
Pastora nació el 17 de mayo de 1941 en San Nicolás, Copán, Honduras. Era la menor de 8 hijos nacidos de José Emiliano Madrid y Ángela Contreras.
Pastora murió pacíficamente el 24 de noviembre de 2019 a las 2.20 a.m. rodeada de sus amados hijos.
Pastora siguió a sus hijos a los Estados Unidos en noviembre de 1997 y se convirtió en ciudadana estadounidense el 2 de octubre de 2018. Estaba orgullosa de emitir su primer voto en los Estados Unidos en las elecciones estatales de noviembre de 2018.
Fue diagnosticada con cáncer de páncreas en 2009, que luchó valientemente durante 10 años. Pastora había sido ingresada en un hospicio dos veces y se le habían dado días de vida, pero decidió que no era su momento y que con su fuerte fe pudo salir adelante, dándole varios años más con su familia y la comunidad de la iglesia.
Pastora era una mujer de fuerte fe cristiana que amaba a todos los seres vivos, especialmente las flores y los pájaros. Una de sus pasiones era criar pollos. En Honduras, tenía más de 100 nombrando a cada uno de ellos. Vendió los huevos para ganarse la vida con su familia.
Ella siempre estaba buscando algo para limpiar o plantas para cuidar. Le encantaba hacer sus propias tortillas y cocinar para su gran familia.
Pastora le sobreviven dos hermanas, sus seis hijos; Armando Contreras, Patricia Rivera, Martha Ines Hilliard Contreras, Silverio Ellis Contreras, Luz Idalia Barahona Contreras y Polo Barahona Contreras, veinte nietos y cuatro bisnietos.
"I can't think of anything more that could have been done at a time when I needed help and care."
Jean P. Seattle
"We received outstanding service, from front desk to funeral director to family service and beyond."
Deborah M. SeaTac
"The staff went out of their way to show us kindness and helped with several additional needs."
Norma N. Auburn
"The staff was prompt, courteous, helpful, and most of all, caring."
Leslie W. Tacoma
"They really care for people and go out of their way to make things easier."
Kathleen S. Federal Way
"The funeral home is a nice, warm and inviting place. Thank you for your kindness in our loss."
Deborah N. Burien
"We are so pleased with Bonney Watson. They were very professional in every way."
Anita H. Normandy Park