Patricia Jean Corrales-Diaz
January 22, 1926 - October 25, 2023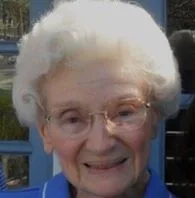 Obituary
Patricia Corrales-Diaz lived a full wonderful life for 97 years!
She started her life journey when she was born in January 1926 to Joe & Marguerite in Seattle, WA. She was an only and much beloved child whom was doted upon by her Granny. She arrived only a few years before the great depression started, which left an indelible impression on her life even though she was a young child.
Mother's family lived in the Mount Baker District of Seattle and she attended John Muir Elementary and Franklin High School. Her life was idyllic – relatives lived nearby, she adored her wirehaired terrier, Bonnie, and loved to roam in the woods surrounding the lightly populated area. They attended church every Sunday. She joined the Girl Scouts and fondly remembers earning her badges and camping around Western Washington.
As her childhood home was located on a ridge near Sick's Stadium in Seattle, she recalled many warm summer nights hearing the crowds cheering the Seattle Rainiers baseball team.
One of her fondest memories was helping her Dad to build a summer cabin in the rustic Redondo area near Dash Point. There was no running water, but the family loved to escape to their little haven on the Puget Sound. She enjoyed hunting for agates on the beach and at night watching the many lighthouses beaming their lights across the Sound on the North.
One of the unforgettable events of her life was when she was 15 years old, and helping her Dad to wash their car on December 7, 1941 – a neighbor ran over and told them that there was a report that Pearl Harbor had been attacked. She wondered where Pearl Harbor was – it was a long way from the Pacific Northwest – but she remembered the older boys in her school and neighborhood joining the military.
She entered the University of Washington in 1944 to pursue Latin American Studies/Spanish. Her goal was to become a translator for the Organization of American States or the United Nations. She spent a semester in Mexico to hone her language skills and furthered her interest in the region and culture. Mother was active in the ZTA sorority while in college which enhanced her undergraduate memories such as riding the train to Snoqualmie Pass in the winter for skiing and the fraternity parties and dances. World War II had concluded while she was in college and the world was our oyster!
After graduation in 1948 mother stayed on at the University of Washington working in the Languages Department at UW, and considering pursuing a Master's degree. In April 1949, the Olympia earthquake occurred and she recalled being on the phone when the caller cried out "there's an earthquake" 30 seconds before it hit UW where she was in Denny Hall – it was notable because it was a 7.1 magnitude – sizeable even today.
From 1947 to 1949, Mom worked as an English tutor for Spanish speaking people who came to Seattle (thru UW). In this role, she happened to become the English tutor for a young handsome physician, Jorge Corrales-Diaz, from Peru doing a clerkship at Swedish Hospital in Seattle. Their romance ensued.
They were married in June 1949 at the magnificent Saint James Cathedral Chapel in Seattle and held their reception at the beautiful ZTA sorority house at UW. She recalled being thrilled when her wedding portrait was selected for display as the "Bride of Month" in the window at Frederick & Nelson's department store in downtown Seattle. That was quit an honor for a young lady to be recognized by such a prestigious establishment as Frederick's & Nelson's.
Due to restrictions in the late 1940's, there were limitations as to where Jorge could practice medicine with his choices being either California or New York. California's climate was much more like Peru, so 'California here we come' and he accepted an internship in San Francisco. They had a walkup apartment in Haight-Ashbury a few blocks from Golden Gate Park where they enjoyed days when he was not on hospital duty. Mom became a shop clerk for Macy's department store on Union Square which was considered quit fashionable.
The cold, damp bay area climate was too different from Peru's dry, arid environment, so after Jorge's internship concluded they moved to the drier Southern California climate – deciding on Long Beach as their home where he became House Officer at Long Beach Community Hospital. Together they enjoyed picnics at the bandstand at Long Beach's Recreation Park and music at the Balboa Pavilion in Newport.
In the mid 1950's, Jorge set up a private medical clinic in Artesia, CA and they purchased a closer home in Lakewood – where they lived until her passing. Mother raised her family in Lakewood and supported our father's office performing much of the background practice management.
Not many years later their lives were filled with young children and supporting them as they grew. Mother continued to support the programs that had been important in her life such as Girl Scouts and Boy Scouts and the ZTA sorority. She was a member of a book club and though the organization closed, she continued to prepare the background documents for their club chapters in the area, so that the members could all continue with their beloved book club. Summers were filled with travel back to the state she loved, Washington, to visit her parents and family. We always knew when we had done something really bad because our parents would switch to Spanish.
In the 1970's, after her children were fully grown, she decided to return to pursue her dream of a Master's degree in Education thru Marymount College in LA. For years, she traveled to Los Angeles campus on weekends for classes and we could hear her typing her papers on the typewriter upstairs (this was before computers were widely available). We recall observing her hours of research, reading and work that she poured into preparing her thesis, while balancing the demands of her family. We recall with pride watching her be awarded her Master's Degree in an elaborate ceremony on the Doheny campus under the scalloped dome of the mansion – it was a shining accomplishment.
Sadly, her husband Jorge passed in the late 1990's, and was laid to rest in the family plot at Lakeview Cemetery in Seattle which will also be Patricia's final resting place. They had a wonderful life together for nearly fifty years.
After his passing, she dived into her other passions – needlepoint, knitting, weaving, and painting. She joined various groups in pursuit of these interests. When the painting group's meeting location was closed, she opened her home to continue their painting meetings which was a joy in her life. She was quite prolific in her various crafts which she shared with her family. And she greatly enjoyed the kittens that seemingly appeared out of the blue on her doorstep.
She is survived by her children John (WA), Susan (CA), Daniel (CA), and Mary (WA). And she has 4 grandchildren – Erin, Jason, & Tracy by John, and Laura by Susan.
She was a formidable member of the greatest generation and lived through many historic events over the course of her lifetime. She will be remembered always for her dedication to her husband and family.