Patricia Rose Reiten Cervenka
February 23, 1927 - March 14, 2021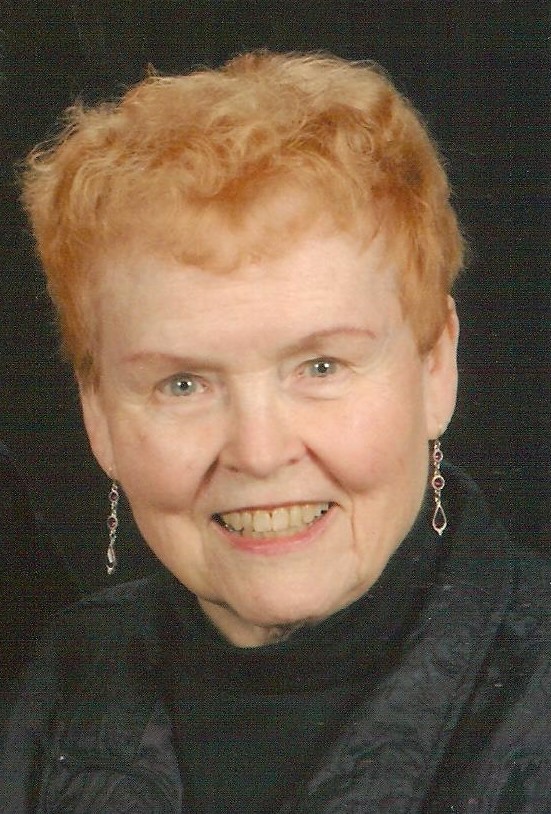 Obituary
Patricia Rose Reiten Cervenka passed away the morning of March 14, leaving an abundance of love and light behind in all of the lives she touched during her 94 years. A lifelong Catholic, Pat liked to say that she took her marching orders directly from Christ's message of love and not the institutional church. Her fierce belief in the power of love to change the world provided the foundation that guided her life's work, raising a large family and devoting her time, energy and talents to her beloved St. Francis of Assisi Church community and the Seahurst/Burien area.
"Patty Rose" grew up in Petersburg, North Dakota, the daughter of Nelson Reiten, a turkey farmer of Norwegian descent, and Lillian Andrews Reiten, a staunch Irish Catholic. With her red hair, strong voice and outgoing personality, Pat learned early on that she could command plenty of (mostly) positive attention, a gift that came in handy in a family of eight children and one that certainly contributed to her optimistic "glass overflowing" attitude toward life. Money wasn't exactly plentiful in those early years; Pat remembered putting cardboard in her shoes to cover holes in the soles, and dinners with one item on the menu: corn on the cob. But the pictures she painted when she told her childhood stories were always ones of joy and delight, not deprivation.
Pat attended the College of St. Benedict in St. Joseph, Minnesota for two years and later transferred to Mayville State Teachers College in North Dakota. After earning her teaching certificate, she taught fifth grade for one year in Cooperstown, North Dakota. Any aspirations of a long teaching career were sidelined in the summer of 1945, however, when she met Stanley Cervenka at a dance at Bachelor's Grove. She married Stan in July 1947, "the best decision of my life." After losing their first child to miscarriage on Christmas Eve 1947 and being told Pat may never be able to bear children, she and Stan went on to have nine, with a new baby being added to the household every odd year from 1949 to 1965.
Pat and Stan spent the first several years of their marriage in the Washington, D.C. area, where Stan worked as an engineer for the Navy. After Stan was hired by Boeing in 1954, the family moved to Burien, putting down roots that would last a lifetime. Pat had more energy than Stan and her nine children combined, handling the load of running a household of 11 largely herself so that, she said, her kids could just be kids. "Mom" was her favorite role and she cherished the 34 years raising her children and all that it entailed. On top of all the daily chores, camping trips, holiday festivities, family movie nights and driving vacations to the Midwest, she managed to find time for projects that kids couldn't consume or destroy: sewing matching dresses out of a single bolt of cloth for her five daughters, or painting walls in bright shades of pink or yellow until the wall texture disappeared.
Just as central to her life as her husband and nine children was her second family, the community of St. Francis of Assisi Catholic Church in Seahurst. There Pat made lifelong friends and eagerly took on a countless number of volunteer roles over the course of 60 years.
Pat served as the church's outreach worker before it was a paid position, compassionately handling situations that would give others pause: staying overnight with the widow whose son committed suicide, grieving with the families of dying children, sharing her "gift of tears" during moments of joy and of sorrow. She served as a regular reader at Mass, led communion services and funeral vigils on the priest's days off, brought communion to the sick, sat with the dying, taught newcomers to the Catholic faith and served as site coordinator of an adult respite program for the elderly and disabled with a neighboring church.
In the 1970s she launched the St. Francis Church funeral luncheons, coordinating them as a volunteer for years before the church finally hired someone to take over her duties. She continued to work the lunches and contribute her giant bowls of potato salad until well into her 80s.
Pat had strong opinions and didn't hesitate to share them. She was a prolific writer of letters to the editor of the Catholic Northwest Progress, often letting the church hierarchy know where they missed the mark. A feminist since high school when she discovered to her shock that girls weren't allowed to take shop class, Pat was a persistent advocate for an equal role for women in the Catholic Church. She pushed her parish priests to adopt more inclusive language at Mass, loved to refer to God as "she" and was disappointed she would not see women ordained as priests during her lifetime.
After Stan retired, he and Pat enjoyed many years of traveling the United States and abroad, and delighted in the births of grandchildren and great-grandchildren. They were a familiar pair in the Seahurst/Burien area, often seen holding hands as they grew old together, a touching example of lifelong love.
Pat was predeceased by her beloved Stan and her son-in-law, Scott Peters. She is survived by a sister, Margaret Reiten and a brother, Richard Reiten; her nine children: Mary Eidsvold (Barry); Mark Cervenka (Sue); Frank Cervenka (Laura Perry); Margaret Schmitz (Andy); Cathy Peters; Patty Cervenka; Sue Steelquist (Dan): Paul Cervenka (Joni); and Bob Cervenka; 15 grandchildren and 10 great-grandchildren. A funeral Mass has been scheduled at St. Francis of Assisi Catholic Church in Seahurst for July 17, with the hope that COVID restrictions will be lifted by that date and we'll be able to give Pat the life celebration she helped provide to so many others. In lieu of flowers, donations may be made to St. Francis of Assisi School in Seahurst.