Sister Rita Marie Ferschweiler
Mar 16, 1918 - Apr 25, 2020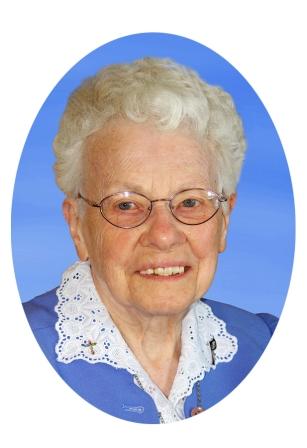 Obituary
(Sister Mary Laureen)
Sister Rita Marie Ferschweiler, SP, age 102, a Sister of Providence for 76 years, died April 25, 2020, at St. Joseph Residence, Seattle, Wash. The dates and times of the vigil and funeral service are pending. Bonney Watson Funeral Home is in charge of arrangements.
Sister Rita was born in St. Louis, Ore., to Lawrence Ferschweiler and Marie Rubens on March 16, 1918, the year that marked the beginning of the Spanish flu pandemic. She was the eldest of six children, and grew up milking cows and picking hops and berries.
Sister Rita entered the Sisters of Providence in November 1942 at Mount St. Vincent, Seattle, Wash., and in May 1943, she became a novice. In November 1944 she professed first vows and received the name Sister Mary Laureen. In November 1952 she professed final vows.
Sister Rita graduated in 1935 from Mount Angel Academy, Mount Angel, Ore. She completed nursing school in 1948 at St. Elizabeth Hospital in Yakima, Wash., a bachelor's degree in nursing from Seattle University in 1957, and was then sent to St. Louis University for a master's degree in nursing service administration. In May 2012, she received an honorary doctorate degree from the University of Portland, Ore.
Sister Rita served from 1948-84 primarily as a medical-surgical nurse and administrator. In Washington: Providence Hospital, Seattle; St. Joseph Hospital, Vancouver; St. Elizabeth Hospital, Yakima; St. Peter Hospital, Olympia. In Alaska: St. Joseph Hospital, Fairbanks. In Oregon: St. Vincent Hospital. Sr. Rita was the last Sister of Providence to serve as an administrator of this Portland hospital. She also ministered in pastoral care at St. Peter Hospital, 1976-77, and St. Vincent Hospital, 1983-84. Sister Rita served as a member of the Provincial Council of Sacred Heart Province, 1985-91. From 1991-97, Sister Rita ministered as the sister representative for Providence St. Peter Hospital and Mother Joseph Care Center, Olympia, Wash.
In the fall of 2011, Sister Rita moved to St. Joseph Residence, Seattle. She was the recipient of many awards during her nursing and administration ministries, including being named by The Oregon Journal as one of Oregon's 10 women of accomplishment in 1971. In May 2012, Sister Rita was honored by Providence St. Vincent Hospital with a "Peace Garden" for her many years of dedicated ministry to the Providence medical community in Oregon. Her true joy came from relationships and helping others in need, including reading to those with failing eyesight.
Sister Rita is preceded in death by her parents; her brothers, Thomas and Cyril; and sisters, Doris and Rosemary. She is survived by her brother Lloyd and many nieces and nephews, grand-nieces and grand-nephews.
Memorial contributions may be made to the Sisters of Providence Retirement Fund, 1801 Lind Avenue SW, M1-C, Renton, Washington, 98057. To view Sister Rita's obituary with her picture and to sign her memory book, please visit the website for Bonney-Watson Funeral Home at bonneywatson.com.
"I can't think of anything more that could have been done at a time when I needed help and care."
Jean P. Seattle
"We received outstanding service, from front desk to funeral director to family service and beyond."
Deborah M. SeaTac
"The staff went out of their way to show us kindness and helped with several additional needs."
Norma N. Auburn
"The staff was prompt, courteous, helpful, and most of all, caring."
Leslie W. Tacoma
"They really care for people and go out of their way to make things easier."
Kathleen S. Federal Way
"The funeral home is a nice, warm and inviting place. Thank you for your kindness in our loss."
Deborah N. Burien
"We are so pleased with Bonney Watson. They were very professional in every way."
Anita H. Normandy Park