Shirley Ann (McBride) Baumgart
November 21, 1935 - September 5, 2021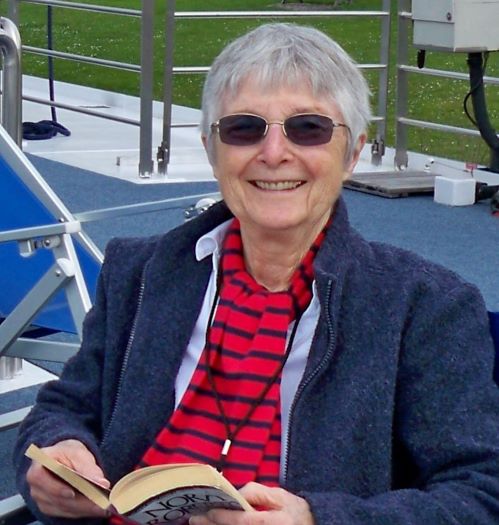 Obituary
November 21, 1935 – September 5, 2021
Shirley Ann (McBride) Baumgart, age 85, died on Sunday, September 5, 2021, in Lacey, Washington. Shirley is survived by her two daughters, Pamela Baumgart and Melanie Farrar; two sons, Matthew and Stephen Baumgart; and her four grandchildren, Kyra and Brynn Stenslie, and Tyler and Isaac Farrar.
          Shirley was born in Seattle in 1935 and graduated from Foster High School in Tukwila in 1953. She enrolled in Western Washington College in Bellingham where she met William (Bill) Baumgart. They were married for more than 57 years – from 1955 until Bill's death in 2012.
When the children were older, Shirley went back to school, earning her AA degree in 1979 from Highline Community College. Afterwards, she worked for 25 years as an aide in the Office Occupations department at Highline.
Shirley and Bill raised their four children – and her beloved dog, Ruffles – in Des Moines, Washington. In 1979, they purchased vacation property on Pickering Passage near Shelton, where they moved full-time in 2004, enjoying the beautiful morning sunrises and the star-filled night skies along the beach. Following Bill's death in 2012, Shirley moved to the Panorama Retirement Community in Lacey.
Over the years, Shirley was able to fulfill her passion for traveling by visiting most parts of the world, including trips to Thailand, China, England, Ireland, Mexico, South America, Russia, Yugoslavia, and the many other countries of both Western and Eastern Europe. She also took cruises to Alaska (on several occasions), the islands of Hawaii and Tahiti, along Latin America, around South America, along the coast of Norway, around the Mediterranean Sea, in the Caribbean, through the Panama Canal, and across the Atlantic Ocean on the Queen Mary 2. Her last trip was a cruise down the Seine River with her daughter, Pam.
Her worldwide travels gave her plenty of opportunity to pursue her love of taking pictures. She had nearly 70 photo albums cataloguing her life – of her childhood, of raising her children, of her extensive travels, and of the family gatherings that were so special to her.
When she wasn't traveling, Shirley liked to spend her time doing jigsaw puzzles as well as knitting and counted cross stitch. Later in life, she discovered opera, and watched a different opera online nearly every day throughout the COVID pandemic. And if you needed to find her, you could always be assured that at 3:00 every afternoon, Shirley would be enjoying a glass of wine and piece of chocolate.
Remembrances may be made to a cause close to Shirley's heart by donating to the Multiple Sclerosis Society, PO Box 91891, Washington, DC 20090, www.nationalmssociety.org.
"I can't think of anything more that could have been done at a time when I needed help and care."
Jean P. Seattle
"We received outstanding service, from front desk to funeral director to family service and beyond."
Deborah M. SeaTac
"The staff went out of their way to show us kindness and helped with several additional needs."
Norma N. Auburn
"The staff was prompt, courteous, helpful, and most of all, caring."
Leslie W. Tacoma
"They really care for people and go out of their way to make things easier."
Kathleen S. Federal Way
"The funeral home is a nice, warm and inviting place. Thank you for your kindness in our loss."
Deborah N. Burien
"We are so pleased with Bonney Watson. They were very professional in every way."
Anita H. Normandy Park