Sister Inez Mae Arkell
November 17, 1926 - June 29, 2021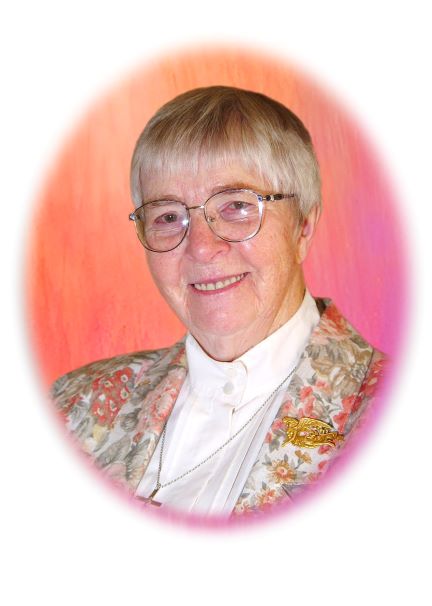 Obituary
(Sister Victorine)
Sister Inez Mae Arkell, age 94, a Sister of Providence for 75 years, died June 29, 2021, at St. Joseph Residence, Seattle, Wash. Funeral Mass at St. Joseph Residence, Seattle: Monday, July 12, 2021 at 9:30 AM. Second Funeral Mass & Reception at Trinitas Chapel located on the University of Providence Campus, 1301 20th St. S, Great Falls, MT 59405 at 10:00am. Burial will follow at Mount Olivet Cemetery, 2101 26th St. S, Great Falls, MT. Bonney Watson Funeral Home is in charge of arrangements.
Sister Inez Arkell, SP was born in Minneapolis, Minn. on November 17, 1926 to Harry and Catherine (Raskob) Arkell. She was the fifth child, and fourth girl in a family of eight. Her family later lived in Saskatchewan and then on a farm in western Montana.
During the summer months, while in high school, Sister Inez worked as a nurse's aide at Holy Family Hospital, St. Ignatius, Mont., where she became acquainted with the Sisters of Providence. Sister Inez was assigned to care for Sister Victor Nibbler, SP, from St. Ignatius Province. During her time with Sister Victor, Sister Inez had her first thoughts of her vocation as a Sister of Providence.
Sister Inez's mother prayed that one of her girls would become a sister. After graduating from high school in 1945 from Sacred Heart Academy in Missoula, Mont., Sister Inez and her high school friend Clarella Fink entered the Sisters of Providence in July 1945. She became a novice in January 1946. In July 1947, she professed first vows and received the name Sister Victorine, to honor the love she had for her friend Sister Victor.  In July 1950, she professed final vows.
Sister Inez's ministries were in nursing, pastoral care, chaplaincy and volunteer service, mostly in Montana. Her first assignment as a Sister of Providence was working in the sisters' dining room in Great Falls, Mont. while taking nursing courses at the College of Great Falls (now University of Providence). From 1948 to 1965, she took care of the boarding school girls at St. Joseph Academy, Sprague, Wash., and Sacred Heart Academy, Missoula, Mont. In 1966, Sister Inez completed her Licensed Practical Nursing (LPN) training at St. Peter Hospital, Olympia, Wash. As an LPN, she ministered at St. Clare Hospital, Fort Benton, Mont. (1965-1968), and Columbus Hospital, Great Falls, Mont. (1968-1975). After completing the CREDO program in 1976 at Gonzaga University, Spokane, Wash., Sister Inez then transitioned into pastoral care and trained to become a chaplain at St. Mary's Hospital in Kansas City, Mo. From 1977-1996, Sister Inez ministered at Columbus Hospital in Great Falls, Mont.
Sister Inez officially retired in 1996, but she continued to volunteer at other ministries in Great Falls, Mont.: Benefis Health Care, spiritual director at St. Luke's Parish with the Legion of Mary, Providence Associates, and founder of the former Angel Room at St. Vincent De Paul. This service, which expressed her love and care for those in need, became a new entity, the St. Jude Conference with the Emilie Center. Here, persons with a documented need can obtain clothing, household items and furniture. The St. Jude Conference assists with utilities, rent, and groceries.
In 2013, Sister Inez moved to St. Joseph Residence in Seattle, Wash. A Montana girl at heart, she loved to share stories about her childhood there and was a master of Montana trivia. Sister Inez was a farmer's daughter, and loved to camp, hike, garden, watch things grow, and be outdoors.
Sister Inez is preceded in death by her parents and her brothers and sisters. She is survived by several nieces, nephews, cousins and friends, and by the Sisters in her community.
To view Sr. Inez's obituary and picture and to sign her memory book, please visit the website for Bonney-Watson Funeral Home at www.bonneywatson.com.
"I can't think of anything more that could have been done at a time when I needed help and care."
Jean P. Seattle
"We received outstanding service, from front desk to funeral director to family service and beyond."
Deborah M. SeaTac
"The staff went out of their way to show us kindness and helped with several additional needs."
Norma N. Auburn
"The staff was prompt, courteous, helpful, and most of all, caring."
Leslie W. Tacoma
"They really care for people and go out of their way to make things easier."
Kathleen S. Federal Way
"The funeral home is a nice, warm and inviting place. Thank you for your kindness in our loss."
Deborah N. Burien
"We are so pleased with Bonney Watson. They were very professional in every way."
Anita H. Normandy Park