Terry Titus
February 2, 1928 - March 23, 2023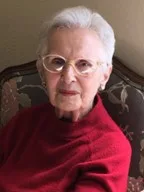 Obituary
February 2, 1928 – March 23, 2023
Terry Titus was a beloved wife, mother, grandmother, great-grandmother, sister, and friend. She passed away peacefully on March 23rd at the age of 95. She was born in Seattle, Washington to Bruno and Lena Varacalli, immigrants from Calabria, Italy. Growing up in an Italian family is where Terry found her love of cooking and baking. If you ever showed up to Terry's house, there was no doubt she would offer you a cookie.
After graduating from Immaculate Conception High School, Terry continued her education at Seattle University. It was there that she fell in love with her future husband, Chuck. They were married for 57 years until Chuck's passing. They purchased a home in Normandy Park where they raised their four children: Chuck, Barbara, Nancy, and Kathy. Terry loved being a homemaker and working in their beautiful yard. She would show her love to Chuck by attending all of the many sporting events he loved; always a weekend game to attend. He would reciprocate his love by attending the symphony, opera and ballet with her. Together they enjoyed long road trips to the east coast and their annual summer vacation to Cannon Beach with their children and grandchildren.
Terry was a devout Catholic all her life and was a parishioner at St. Francis of Assisi. Throughout the years she would volunteer her time for a variety of charities including Union Gospel Mission, UW Scholarship Fund, Kennedy High School Auction, and the St. Francis of Assisi Women's Guild. Always a social butterfly, she continued working into her later years at the local bookstore and gift shop. Everywhere Terry went she would make new friends.
She will be greatly missed. Terry is survived by her son, Chuck (Joni) Titus, Barbara (Gary) Saben, Nancy (Mark) Leggett, Kathy (Roger) Stultz, six grandchildren, and nine great-grandchildren. She was preceded in death by her husband Chuck. There will be a private family gathering for Terry. Donations can be made to Franciscan Foundation P.O. Box 1502 Tacoma, WA 98401-9836.