Thelma Doces
January 12, 1915 - May 22, 2021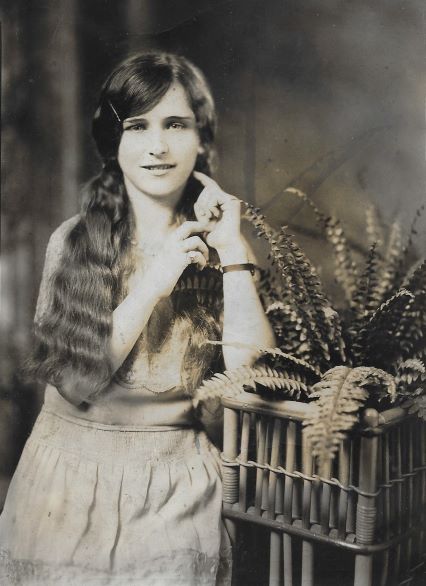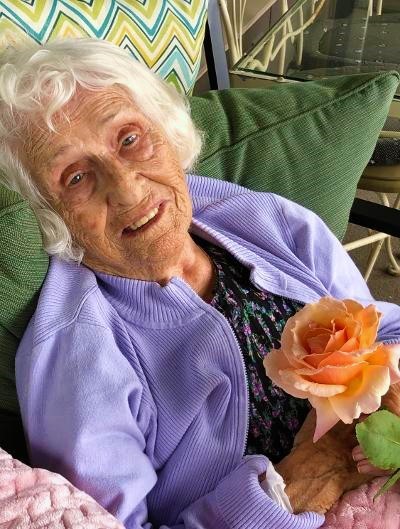 Obituary
Thelma Doces passed away on May 22nd ending a life of 106 years. One of her greatest talents was storytelling and after 106 years of living, she had some stories to tell! All of her family members can remember sitting with her and hearing about old country, being an immigrant in Chicago and coming to Seattle when it was still a small city.
Thelma was born in Slimnitsa, Macedonia, Greece, near the northern border of Albania on January 12, 1915. Her village was very remote and life was hard, especially the winters. They lived in a stone house near a stream. In the winter, the animals would live in the lower part of the house while the family lived upstairs. Her father had left for America well before her memory of him and she lived with her mother, grandparents, brother Michael and cousin Esther. They waited and waited for their father to send for them. They waited a long time. She was 13 by the time he finally sent for the rest of his family. They left Slimnitsa shortly after May 1st in 1928. She would tell us about going to a May Day celebration in the village and feeling sad knowing she would never see her friends again.
The journey was difficult, and she was sad to leave, but excited to see her father again and go to America. She has always maintained that there is no better country and would always wonder why people wanted to go back to the old country. The family made their way on foot, by train and by boat. The journey marked the first time she had ever seen a car, electricity, ice cream, a boat, non-white people and tall buildings. They did not have to pass through Ellis Island when they arrived in New York because they had a sponsor waiting to meet them. She was disappointed that it was not her father and was surprised to have to take yet another long train ride to get to Chicago.
After getting settled in, her father took her to enroll at the local school. Her name was too difficult to pronounce, so he gave her a new name, Thelma. In those days, if you didn't speak English, no matter your age, you had to go to first grade with the 6 year olds. You can only imagine how long she lasted there! Refusing to go to school with young children, she convinced her father to let her work at his diner where she learned English from the customers.
After a few years, she met and married Leo Konstans. Together they built Leo's dry-cleaning store into their own very successful business. Before long they had two sons Gust and Chris. Tragically Leo died in a traffic accident and Thelma was suddenly a single parent with two sons running a dry-cleaning business on her own.
Thelma was introduced to Sam Doces, who was visiting Chicago on a trip from Seattle, by her cousin Esther Demetry and Sam's sister Roxanie Karakosta. After a quick courtship, they fell in love, married and the new family set out by train to Seattle.
When they arrived in Seattle, they were met by Sam's mother in the home they owned across from Green Lake.  The boys loved having a new grandmother, but didn't understand a word she said!  They would spend the day in the huge park, coming home in time to eat. Moving to the house that Sam owned, was a welcome surprise having come from crowded Chicago apartments. She had sold her dry cleaning business in Chicago to her brother, and she and Sam used that money to purchase the property for the home they built and lived in for many years. It was not long after the move to Seattle that a third son, Paul, was born.
Sam and Thelma worked very hard to build their family and business. Doces Furniture became a huge success. They also became very active members of St. Demetrios Church. The church became well known for its community of Greek immigrants.
Thelma spent many days and untold hours working for the church. She was very proud that during her tenure as head of Philoptochos, she helped to revamp the way food was prepared for the festival. She was also very proud that much of the church cook book was done with her friends and family at her kitchen table.
She, Sam and 'the boys' loved being part of the community of St. Demetrios; it was the center of their spiritual and family life, and for that she was always grateful and thanked God. She said often, I had a hard life, but good. She was proud of her sons and cherished her grandchildren and great grandchildren.
Thelma was preceded in death by her husband Sam and her sons, Gust Doces and Chris Doces. She is survived by her son and daughter-in-law, Paul and Debbie Doces, daughters-in-law Kay Doces, Donna Doces, six grandchildren, two step-grandchildren and seven great grandchildren.
Funeral services will be Wednesday, June 2, 2021, 11:00AM, at St. Demetrios Greek Orthodox Church, 2100 Boyer Avenue East, Seattle. In lieu of flowers please make a contribution to the St. Demetrios Building Fund.
"I can't think of anything more that could have been done at a time when I needed help and care."
Jean P. Seattle
"We received outstanding service, from front desk to funeral director to family service and beyond."
Deborah M. SeaTac
"The staff went out of their way to show us kindness and helped with several additional needs."
Norma N. Auburn
"The staff was prompt, courteous, helpful, and most of all, caring."
Leslie W. Tacoma
"They really care for people and go out of their way to make things easier."
Kathleen S. Federal Way
"The funeral home is a nice, warm and inviting place. Thank you for your kindness in our loss."
Deborah N. Burien
"We are so pleased with Bonney Watson. They were very professional in every way."
Anita H. Normandy Park