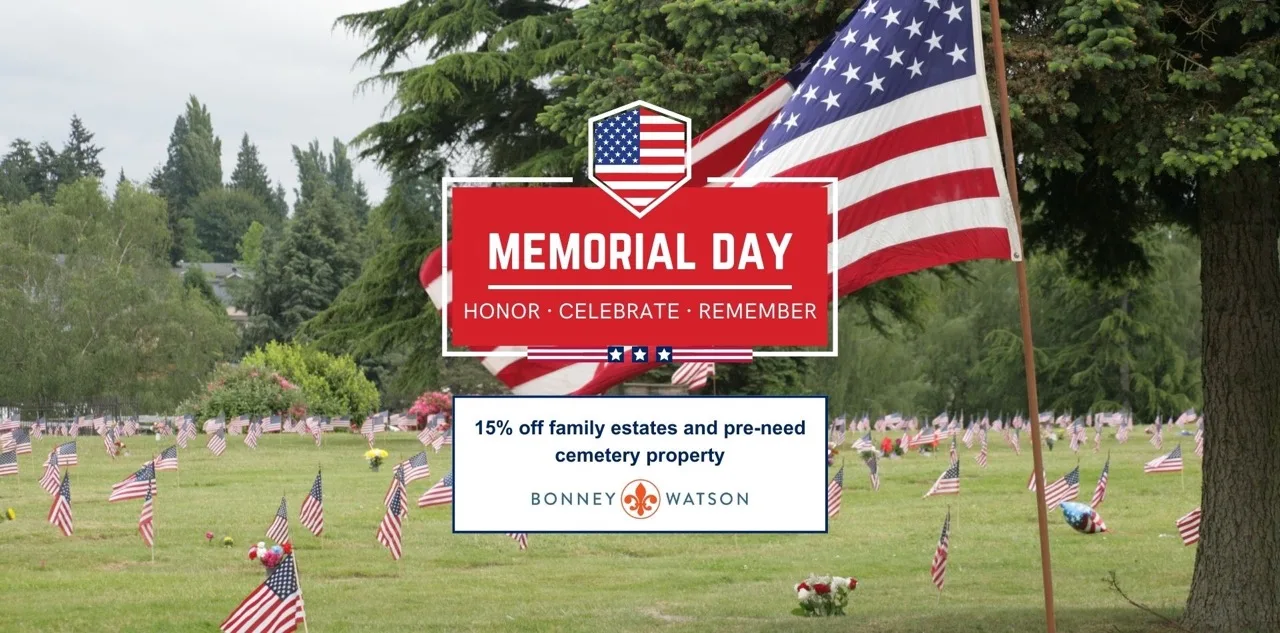 June 13, 2023 9:09 am
Now offering 15% off of cemetery property with 0% financing for up to 60 months
Memorial Day Promotion Details
In honor of Memorial Day, BONNEY WATSON is offering 15% off family estates and pre-need cemetery property with 0% financing for up to 60 months. Contact us to learn more about this special offer and start planning.
What is Cemetery Property?
Cemetery property includes single or companion plots for casketed or cremated remains. This is a good choice for individuals or couples looking to plan in advance.
What are Family Estates?
Family estates can vary from one situation to the next, depending upon a family's size and wishes. BONNEY WATSON will work with you to arrange a beautiful way to honor your family heritage and legacy, whether that be in the form of a traditional family plot (marked by a central headstone), a mausoleum, columbarium, or a crypt.
Benefits of Advanced Planning
Planning in advance comes with many benefits:
Sparing family members from having to make decisions during a stressful time, easing the burden during their time of grief.
Ensuring any preferences concerning an individual's funeral service are met.
Peace of mind of knowing there will be adequate funds to cover funeral expenses.
Pre-payment can also provide real benefits when you are applying for Medicaid. Reach out to BONNEY WATSON for more details.
Perhaps most importantly, pre-arrangement allows you the time to make rational decisions without the usual urgencies when death takes place. When you make funeral plans in advance with BONNEY WATSON from now until July, you can receive 15% off of family estates and cemetery property at Washington Memorial in SeaTac.
Categorised in: Blog
This post was written by Cameron Smock