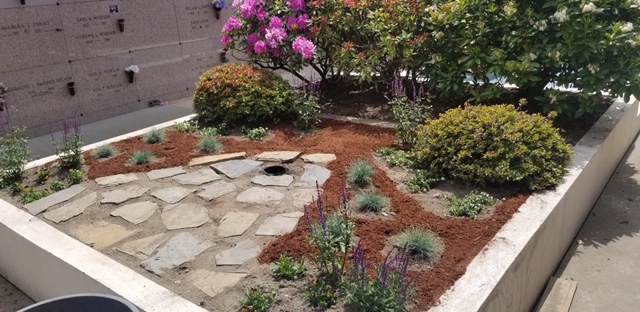 August 19, 2019 11:11 pm
Saturday was overbooked for me to begin with. Our church garage sale setup started at 7am. At 10am, my parents had an appointment to enroll for their medical and dental insurance, with me along to translate even if they spoke perfectly good English. Then at 12pm to practice a song for Father's Day. When 3pm rolled around, it was time to set down our garage sale. Alas, I have just enough time to drive to Seatac from Federal Way and make a last-minute attempt to scatter Jerimiah's ashes!
I parked in front of the mausoleum hoping it wasn't too late. Friendly faces told me it wasn't. I see hands going into white gloves, and I trustingly place Jerimiah's urn in them. I enter the mausoleum, as if for the first time, and I see how it has been transformed. I admire the white carriage, flowers, and urn placed inside. It's quite romantic! We walked further, past the tall, sheer, white curtains, and through a door leading outside to the Terrace Garden. The sun was out, and it glistened when it hit the water cascading down the wall into the pool. All the plants and flowers were in full color. Everything was just beautiful!
White-gloved hands held the urn before me. It was time. Opening the urn brought back some memories of when I shared Jerimiah's ashes with his mom and three brothers. Not much left. I take the bag and hike up the three steps leading to the Ossuary. A kneeling pad called for me, and I followed. Instructions were being given, but I couldn't hear. My ears stopped listening, and my eyes began to water. Fair winds and following seas, Jerimiah. A proper goodbye for a man of the sea.
This past Saturday, I had the opportunity to attend Scatterday and bring the ashes of my late husband, Jerimiah William Casey Rozell, for final placement. When he died 12 years ago, I was lost and could not even begin to think of where to place him. Although we met and married in California, he was born here in Washington. When the opportunity came to place him in Washington Memorial Park, I instantly knew there was no better place. No better place for the man that I loved, in the place that I love, surrounded by the people that I love.
I am always in awe of the things that BONNEY WATSON does for its families, as well as its employees. I say BONNEY WATSON, which really means YOU— each and every one of you that demonstrate the culture we love and believe in. It is YOU that make this company great and beautiful, and amazing. It is the teamwork, the integrity, and the respect that bring us all together to help each family that comes to us.
My deepest thanks to the people who brought this idea to reality, the people who planned and prepared for this event, and the people who wore those white gloves that day to give me a unique and loving way to say goodbye to someone very special to me. I thought it would be just another Saturday of running around and getting things done, but YOU had turned that Saturday into something so much more for me, something I will always remember and cherish.
Categorised in: Blog
This post was written by bwatson