When you select a cemetery, you place an important part of your heritage in the care of others. Your family will be visiting that cemetery for many years, therefore, top priorities should include:
Well-maintained grounds
Friendly, confident, and knowledgeable staff
A willingness to show and discuss a wide range of options and prices
Good recommendations from sources such as neighbors, the Better Business Bureau. and other consumer groups
Management by a well-established and respected firm
BONNEY WATSON works with many cemeteries throughout the Puget Sound region, giving our clients more options to fulfill proximity or personal preferences.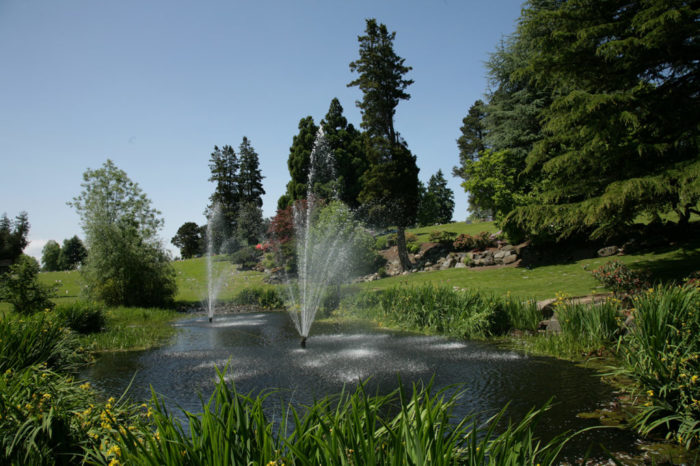 The Cemetery at Washington Memorial in SeaTac
BONNEY WATSON's own Washington Memorial cemetery is located on 70 beautifully landscaped acres in the City of SeaTac, about 10 miles south of downtown Seattle. The cemetery sits atop a hill with commanding views of the Cascades and Mount Rainier to the east, and the Olympic Mountains to the west.
An endowment care cemetery, Washington Memorial has numerous grave, columbarium, mausoleum, and niche sites, offering everything from simple urn scattering gardens to private family estates.
Washington Memorial was developed in the 1920s, and the first burial took place in 1931. Since then, we've been entrusted to handle the permanent placement of over 30,000 people. Through proper planning, we have room to serve families for the next 100-plus years.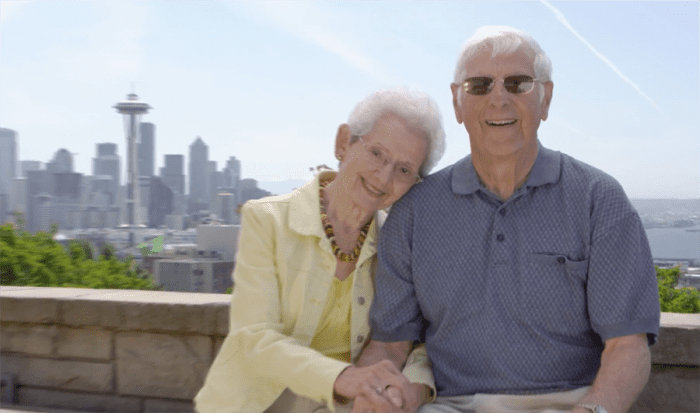 The BONNEY WATSON Difference
The convenience of an all-in-one location with a funeral home, reception center, crematory, and cemetery is a significant feature that differentiates Washington Memorial from other cemeteries.
Washington Memorial cemetery offers a full range of above-ground and below-ground burial options. We also feature several columbariums, mausoleums, and several niche and memorial gardens, along with designated veterans sections.
Washington Memorial is home to the first and only POW/MIA Living Memorial Plaza in the United States. Built in 1992, this memorial includes a repository where people can permanently enshrine their POW/MIA bracelets. The adjacent Freedom Shrine features historical documents representing the history of our country.
For generations, families who choose BONNEY WATSON appreciate the broad range of options for burial or memorialization at Washington Memorial cemetery, and the ease in which they can lay their loved ones to rest.
Mausoleums
Washington Memorial offers a complete range of mausoleum placement, including entombment in the indoor Chapel of Memories Mausoleum. This beautiful structure features crypt fronts made of book-match marble in varying colors, custom memorialization options, and beautiful stained glass.
The cemetery also offers outdoor options, including our Terrace Garden Mausoleum, which features exterior crypts surrounding a fountain and a peaceful reflecting pool.
Ground Burial
Washington Memorial has more than 50 acres of ground burial options, including 21 specially-developed gardens, from traditional ground burial to double-depth lawn crypts. Two of our gardens allow families to use upright memorial monuments; other sections feature flat markers. Many of the gardens include features and statuary art that reflect the sanctity and serenity of the cemetery.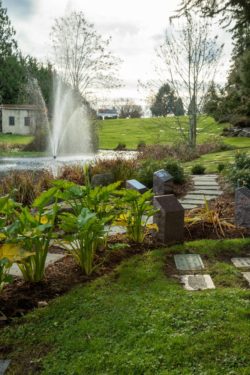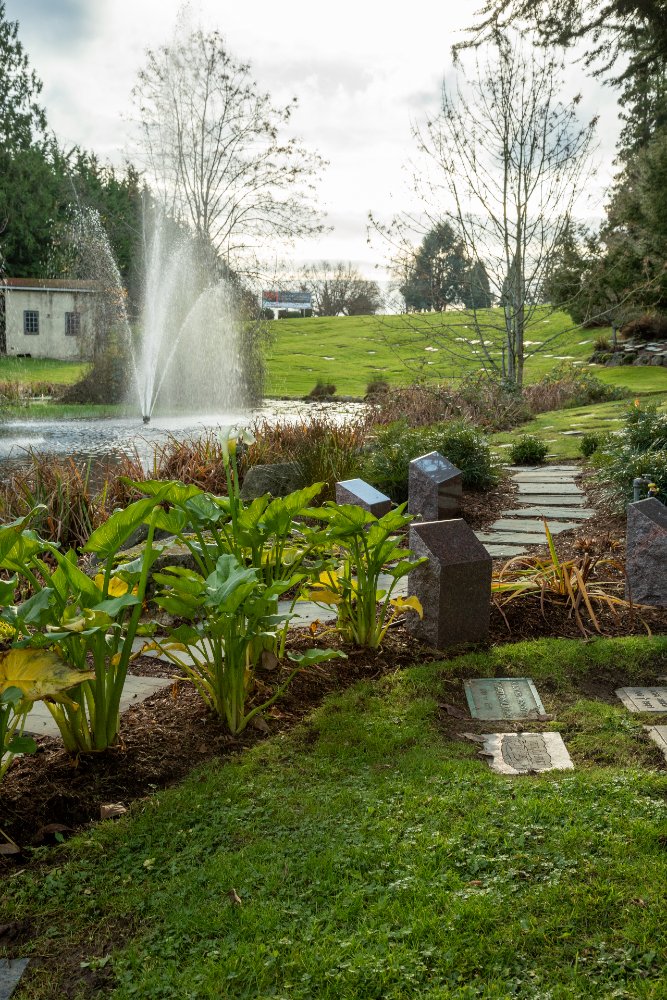 Cremation Placement Options
BONNEY WATSON offers a full range of placement options for cremation at Washington Memorial, including burial in one of the cemetery's urn gardens, placement in a scattering garden or boulder estate, or above-ground placement in a niche wall or columbarium.
With an Asian-influenced architectural design, the Mountain View Columbarium offers both indoor and outdoor niches, as well as a stained-glass feature which highlights the Northwest landscape, including the Olympic and Cascade Mountains, Mount Rainier, Mount Baker, and Mount St. Helens.
The Lake Urn Boulder Garden gives families a unique way to create a permanent memorial for cremated remains by placing them in a private boulder near the cemetery's water feature.
Memorialization Options
There are many ways you can create a lasting memorial for your loved one at Washington Memorial. Options include flat memorial tablets, upright monuments, memorial benches, floral vase offerings and more.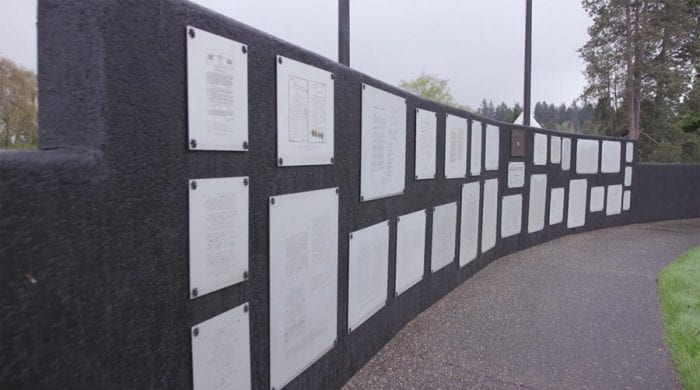 POW/MIA Living Memorial Plaza
Washington Memorial is home to the POW/MIA Living Memorial Plaza. The unique monument features a 14-ton granite pyramid standing 10 feet tall. The adjacent Freedom Shrine displays 28 historical American documents photographically reproduced on aluminum. The Plaza was developed to remind all visitors that the freedoms Americans enjoy today are, in essence, a gift from the past: the product of idealism, determination and the sacrifice of vast numbers of courageous men and women who served our country.
Each year in September, Washington State hosts a POW/MIA Recognition Day, which includes a ceremony at Washington Memorial's Living Memorial Plaza. Visit our Veteran's Services page for additional information.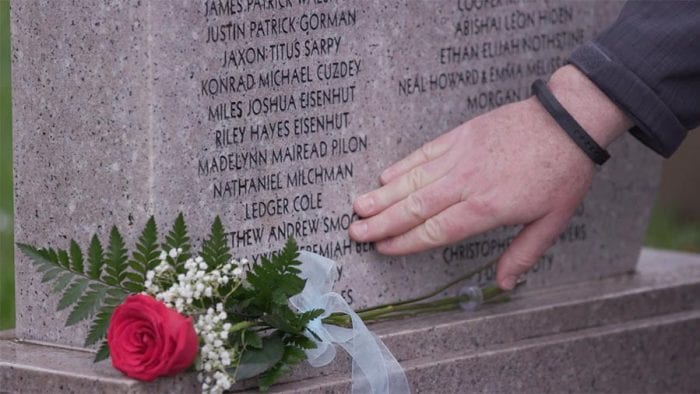 Additional Grief and Family Support
Our services extend beyond the ceremony and remain long after the guests leave. We continue to provide you with value-added services such as grief resources, programs to honor and remember your loved one throughout the year, and opportunities to connect with others through community events.
Undoubtedly, you'll have questions. BONNEY WATSON has the answers that will help you and your family during this transitional time. Contact us today.
Death Certificates
Your BONNEY WATSON funeral director will order the necessary amount of certified death certificates on your behalf. If you need additional copies later, you may order them from the local county health department.